Annotation
Free blacks in St. Louis lived in difficult circumstances. They found economic opportunity in service trades and on the bustling Mississippi river front. But Missouri was a slave state. Its laws discouraged manumission, restricted the movements and education of free blacks, and limited their civil rights. One contemporary said that St. Louis was "extreme Southern" in its "prejudices, interests, and feelings." In the 1850s, when Elizabeth Keckley bought her freedom, forces that sought to limit or reverse her freedoms were gaining ground. The U.S. Supreme Court ruled against the case of Dred Scott, who had sued for his freedom in St. Louis. The Fugitive Slave Law allowed federal agents to seize runaways even in free states, and free people needed documents, such as this Freedom License, to prove that they were not slaves. Shown here is the freedom license issued to Elizabeth Keckley.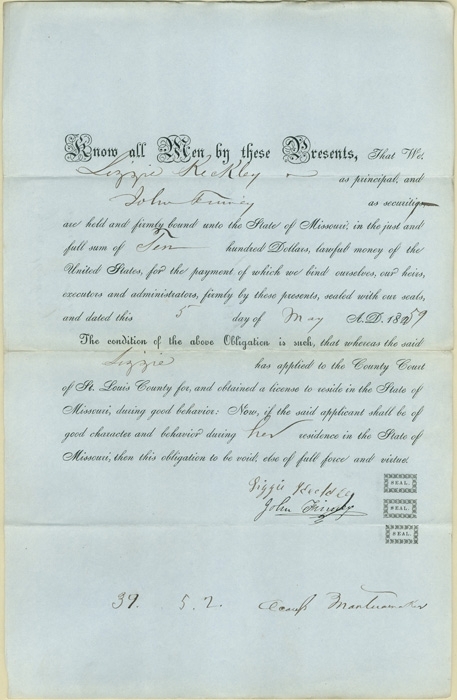 Know all Men by these Presents, that We, Lizzie Keckley as principal and John Finney as security are held and firmly bound unto the State of Missouri in the just and full sum of Ten hundred Dollars, lawful money of the United States, for the payment of which we bind ourselves, our heirs, executors and administrators, firmly by these presents, sealed with our seals and dated this 5 day of May A.D. 1859. Lizzie has applied to the County Court of St. Louis County for, and obtained a license to reside in the State of Missouri, during good behavior: Now, if the said applicant shall be of good character and behavior during her residence in the State of Missouri, then this obligation to be void, else of full force and virtue. Lizzie Keckley John Finney
Source
Elizabeth Keckley's Free Negro Licence, 5 May 1859. Dexter Tiffany Collection. Missouri Historical Society.