Stoop Labor in Salinas, California
Annotation
Workers cultivate a field using short-handled hoes near Salinas, California. The short-handled hoe was used for a wide-range of different crops, including bell peppers, lettuce, squash, strawberries, sugar beets, and others. Many growers believed short-handled hoes made workers more careful and kept crops from being damaged. The bosses also liked the short-handled hoe because they could tell at a glance whether the farm laborers were working or resting.
Workers despised the short-handled hoe because it forced them to bend over to work. One bracero, or Mexican guestworker, called the hoe an "instrument of horror . . . designed by the devil." The use of the short-handled hoe was mostly found in California. In 1972 the California Rural Legal Assistance organization waged a battle to ban the hoe.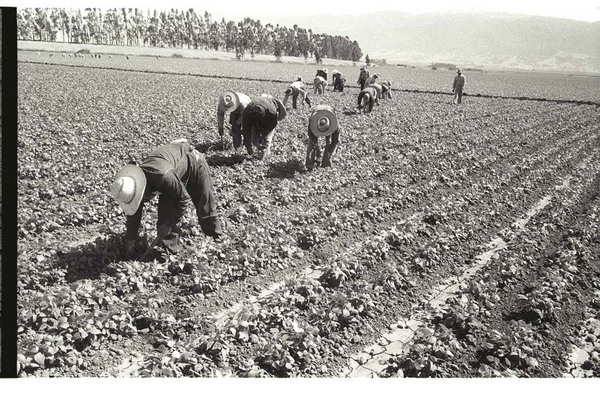 Source
Photograph by Leonard Nadel, 1956, National Museum of American History.
Thought to be introduced to California farming at the end of the 19th century by Chinese workers, the short-handled hoe required workers to stoop over as they used it to cultivate crops. Working with the short-handled hoe had long term consequences for agricultural laborers. In 1972, Maurice Jourdane and the California Rural Assistance League began a legal battle to have the tool banned in California. In 1975, the California State Supreme Court ruled that it was an "unsafe hand tool" and, therefore, banned under California state law.